Our last 2019 Mt Zion season in Jerusalem focused on four major goals: 1) setting up our new Mt. Zion Archaeological Excavation Headquarters; 2) doing post-excavation work on the finds from past seasons at both the Jerusalem site and the "John the Baptist" Suba cave; 3) working on official academic final reports on excavation work since 2000; and 4) carrying out a session of strategic digging at the Mt Zion site. All four goals were amazingly successful. We had a specially selected staff of 18, led by Dr. Shimon Gibson of History, Dr. James D. Tabor of Religious Studies, and Dr. Rafael Y. Lewis, who is our resident co-director in Jerusalem. The excavation was sponsored through the generosity of a number of individuals, to whom we are grateful, and the work at the headquarters was sponsored by the Loy H. Witherspoon bequest.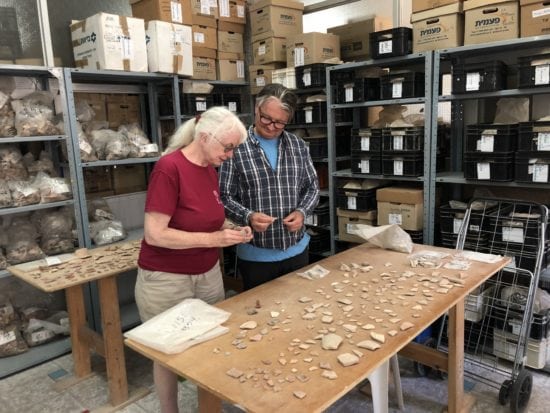 The new archaeological headquarters is located just one block away from the Old City of Jerusalem, in a lovely building from the late 19th century owned by the St. Vincent de Paul Sisters of Charity Center. It is a perfect space for our needs with a gated courtyard, office areas, storage rooms, laboratory space, kitchen, and bathroom.
During 2019 the staff worked tirelessly to organize and begin processing of artifacts from previous years, with the goal of publishing two official excavation report volumes in 2019-2020. These volumes, dealing with the Suba Cave, where we excavated since 2000, and the Mt Zion excavations carried out by UNC Charlotte since 2008, will be published by the prestigious Israel Exploration Society. Both students and staff carried out excavations at the Mt Zion site itself. This year we concentrated on three main areas at our Mt Zion site with some specific strategic goals in mind—uncovering an ancient street that dates back at least to the Byzantine period, and perhaps earlier, excavation of the lower levels of a 1st century CE mansion with well preserved rooms with ceilings, and the excavation of the fills within a dry moat that ran in front of the Fatimid fortification wall. Significant discoveries were made, including dozens of coins, ceramic vessels, and other artifacts that enable us to further clarify the dating of the various strata. The ancient street was particularly important as it links up with previous excavations inside the Old City. The centerpiece of our excavation are the well-preserved ruins of a 1st century CE priestly mansion that was destroyed in the Roman destruction of Jerusalem in 70 CE and an adjacent structure dating back to the Hasmonean period (late 1st century BCE).